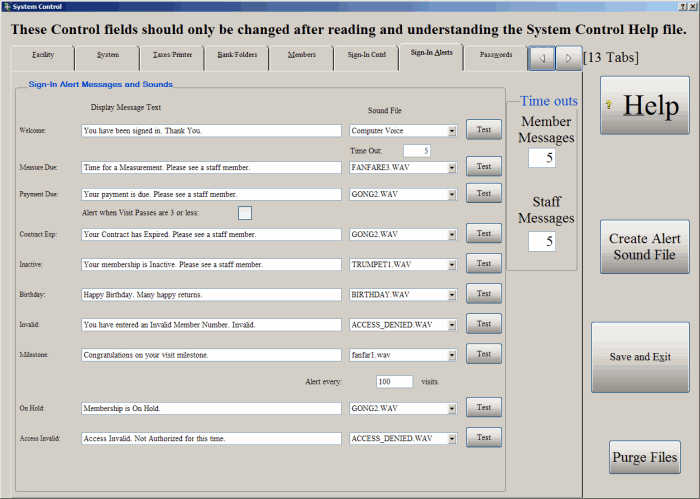 The System Control file allows user to customize the look and function of many screens and features.
Set Facility details, Logo and Banner display, Tax Rates, Member Defaults, Sign In Defaults and Alerts, Passwords, Receipt defaults, Shifts, Commissions and Background screen images.
Display your own Logo/Banner on the Main Menu and Sign-In Screens.
Bi-Level Adjustable Tax rates and application.
Set custom messages for Sign-In alerts. May be changed for language preference.
Select user defined sounds to associate with each alert message.
User selectable phone formats for North America and Europe.
Currency designation for Dollars( $ ), pounds( £ ), EURO( ? ) sign or any other currency.
Password selection for protection of critical member information.
User defined Date format and Location settings accommodate USA, Canadian and international preferences.
Set default commission rates and rules.
Define access for security doors and scanners.
Define how the system handles many of the member policies such as automatically making members In-Active when their contract expires.
Define COM PORT settings for Sign-In scanners and security doors.
Define Email settings for mass emails sent through the Communications Manager.
Setup Receipt parameters for Point of Sale printers and cash drawers.
Setup shift times and days for receipt control.
Setup various tables for Membership Types, Product Codes, Bank Codes, Payment Types, Staff Names, Visit Types, User Accounts, Location Codes, Access Times and In-Active Reason Codes.
Custom program changes accommodated through a "Fee for Service".
Many suggested enhancements are added to our development list and included free of charge in a later release.
Support is provided immediately during regular business hours. After hours calls are forwarded to Cell Phone support personal or are collected by a message center.
Email support is monitored and responded to after hours and on weekends.