Enhance member communications and increase retention.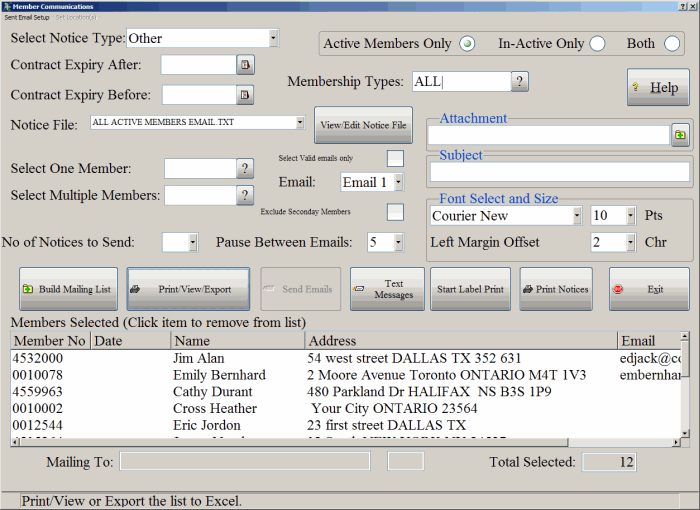 A Communication Manager allows form letters, contracts and emails to be sent to selected groups of members based on user selected criteria such as Contract Expiry, New Member Welcome, We Missed You, Birthday Greetings, NSF Letter, etc.
Notices may be custom built based on existing templates or designed from scratch.
Insert over 30 different Client file fields for powerful mail merge options.
Ability to filter by Membership Type, Staff Code, Active or In-Active and selected members.
Address Labels may be printed for form letters or post cards.
Mass email with attachments may be sent.
Export selected data to an Excel Spreadsheet for custom reporting and Mail Merge purposes.
This is an excellent tool for prospecting previous members and for retention management.
May be used to contact Prospect in the Guest category.
Mass Emails may be sent to one or both email addresses.
Custom program changes accommodated through a "Fee for Service".
Many suggested enhancements are added to our development list and included free of charge in a later release.
Support is provided immediately during regular business hours. After hours calls are forwarded to Cell Phone support personal or are collected by a message center.
Email support is monitored and responded to after hours and on weekends.