Our Member Information file provides a single point of access to record or view demographic data and historical financial and statistical history.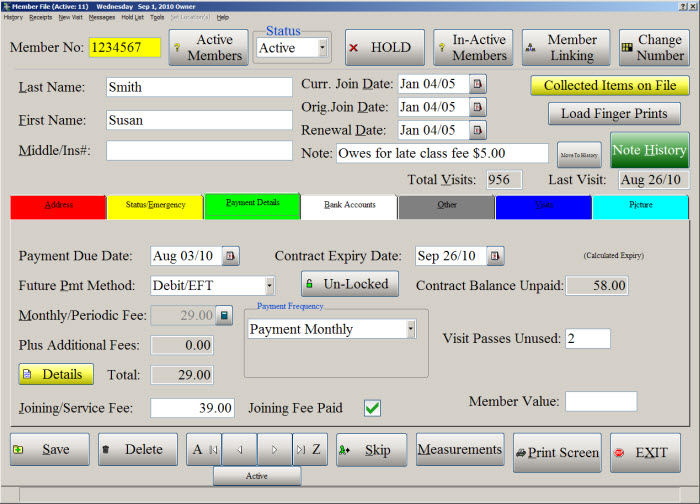 Select from 1,000, 2,000 or Unlimited members allowed depending on license purchased.
Extensive demographic detail retained for each member.
Easy member lookup by name.
Member Lookup – Display Active Members only or In-Active lookup.
Enter Membership Fee detail for additional items such as locker fees, towel rental, etc.
Payment Detail lines can be charged to different accounts and/or use different payment schedules.
Picture Capture/Import of member picture.
Complete Audit of all Field changes.
Membership Hold with reduced payment and history.
Link family members to head of family.
Unlimited Notes History retained for each member.
Store encrypted Bank and Credit card information using des3 encryption.
Define unlimited membership types.
Assign Passwords to sensitive information areas and fields.
12 user definable fields.
Select Payment frequency (Monthly, By-Weekly, Weekly, Quarterly, Annual, etc).
Send Emails or Text Messages direct from Member file.
Visit Pass count down.
Separate Count Down for such things as personal Training, Massage, Tanning, etc.
Bar Code ID may be 20 Alpha/Numeric characters.
Maintain Guest/Prospect data for promotional purposes.
Print Contract Forms.
Private member messages on Sign In.
Member Contact Preferences.
Import New Client information from Web generated transaction file.
Custom program changes accommodated through a "Fee for Service".
Many suggested enhancements are added to our development list and included free of charge in a later release.
Support is provided immediately during regular business hours. After hours calls are forwarded to Cell Phone support personal or are collected by a message center.
Email support is monitored and responded to after hours and on weekends.