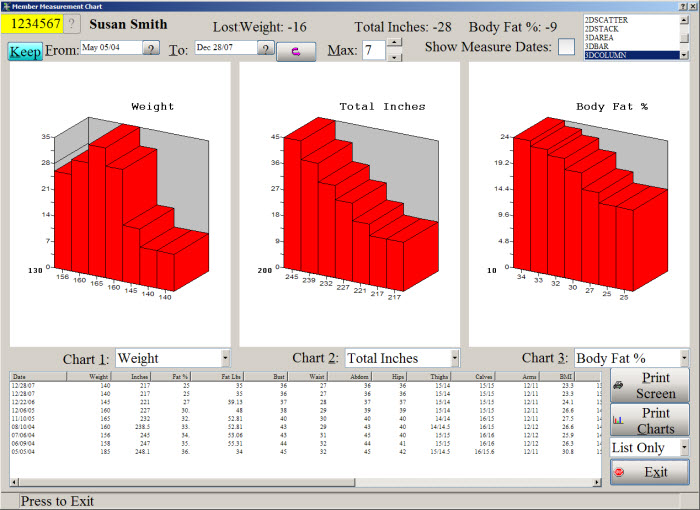 Complete history of all Measurement Data.
Create multiple Graphical Charts and report of member measurements.
Calculates BMI and BMR for all measurement history.
Record Blood Pressure and Heart Rate history with graphs.
Six user definable fields may be used for any statistic and/or measurement.
Form print makes recording new measurements easier.
Record measurements for both left and right Thighs, Calves and Arms.
User defined measurement schedule.
Alerts sounded on Sign In and on Measurement Alert Report when member measurements are due.
Post one set of measurements per day.
Print measurement Graphs for your member.
Graphs show progress of any three parameters such a Weight, Inches and Body Fat.
Show Graphs over time or absolute amounts.
Custom program changes accommodated through a "Fee for Service".
Many suggested enhancements are added to our development list and included free of charge in a later release.
Support is provided immediately during regular business hours. After hours calls are forwarded to Cell Phone support personal or are collected by a message center.
Email support is monitored and responded to after hours and on weekends.