Control Access and Record member visits.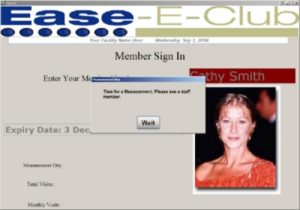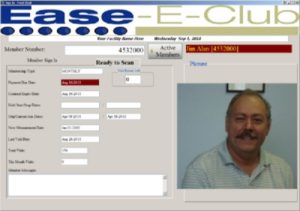 Choose Control Desk Sign In or Member Kiosk(Monitor faces member) Sign In.
Display your own club banner at the top of these Sign In screens.
Dual Monitors are fully supported for Sign In when used with a Serial Scanner, Serial Keypad, Finger Print and Proximity Reader.
Sign In Messages may be modified and/or changed to any language.
Supports Biometric Finger Print scanning for recording visits and access control. (An optional ADD-ON module)
Optionally record visits using a Telephone Number and Numeric Keypad.
User defined Time of Day and Day of Week Access Control.
Use a Bar Code Scanner and your own Bar Coded Key Tags or print Membership Cards with Bar Codes from the Fitness Software.
On Screen Numeric Keypad for use with Touch Screen monitors.
Display members' name and picture for better security.
Show alert messages for Payments Due, Measurements Due, Contract Expiry, Birthday Messages, Global Messages and Private Messages.
Automatically display Birthday messages for your members.
Alert messages may be assigned a unique sound to draw member and staff attention.
Custom Sounds and text to voice supported for sign in alerts.
Complete Visit History retained for each member.
Control 24 hour access through a Security Door (standard serial port connection).
Control visit passes. (Facility and class specific)
Record visit notes for each visit.
In-house Activity and alert display with current visit average and thumbnail picture.
Launch Sign-In Screen only on second work station.
Optionally display Contract Expiry on Sign-In screen and pre-alert 30 days prior to expiry.
Record Staff shifts on same Sign In screen.
Complete Visit History reporting.
Optionally Capture Sign Out time for members.
Custom program changes accommodated through a "Fee for Service".
Many suggested enhancements are added to our development list and included free of charge in a later release.
Support is provided immediately during regular business hours. After hours calls are forwarded to Cell Phone support personal or are collected by a message center.
Email support is monitored and responded to after hours and on weekends.