Over 30 pre-programmed reports and user defined Excel export.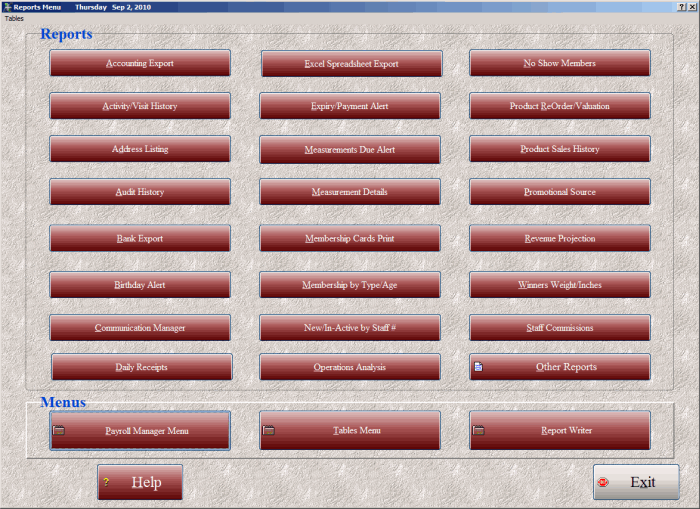 All reports can be PRINTED, VIEWED OR EXPORTED TO EXCEL, TEXT, PDF OR HTML.
Daily receipts report sorted by Payment Method, Date, Staff Code or Product Code for any selected range of dates.
Export selected MEMBER data to an Excel Spreadsheet for custom reporting and Mail Merge purposes.
Print alert reports for Measurements, Birthdays, Contract Expiry, Payment Due and Credit Card Expiry Dates.
Control reports for Revenue/Deposit Balancing, Staff Commissions, Low Stock Re-Order and Product Sales.
Monthly "Operations Analysis Sheet" report provides financial and statistical reporting and analysis.
A Winners Report prints a list of members losing the most weight/Inches in a selected month.
Activity/Visit History reports with hourly visit analysis.
Milestone visit reporting for over 100, 200, etc visits.
Audit History report of Member File changes.
Revenue projection.
Promotional Source report.
Membership by Type report.
Staff Commissions report with user defined setup.
End Of Day setup allows flags for weekly, End of Month, 15 of Month or Day of Week.
A "No Show" member report provides alert of members not attending.
Staff Products Sold report – resorts the cash receipt report by Staff member.
Print Membership Cards with optional pictures and bar codes. May be printed to Business Card stock or Plastic Card Printer.
Sort Visit History and/or Membership report by Gender.
An optional "Report Writer" is available at a small additional fee. Most client do not require this option.
Custom program changes accommodated through a "Fee for Service".
Many suggested enhancements are added to our development list and included free of charge in a later release.
Support is provided immediately during regular business hours. After hours calls are forwarded to Cell Phone support personal or are collected by a message center.
Email support is monitored and responded to after hours and on weekends.