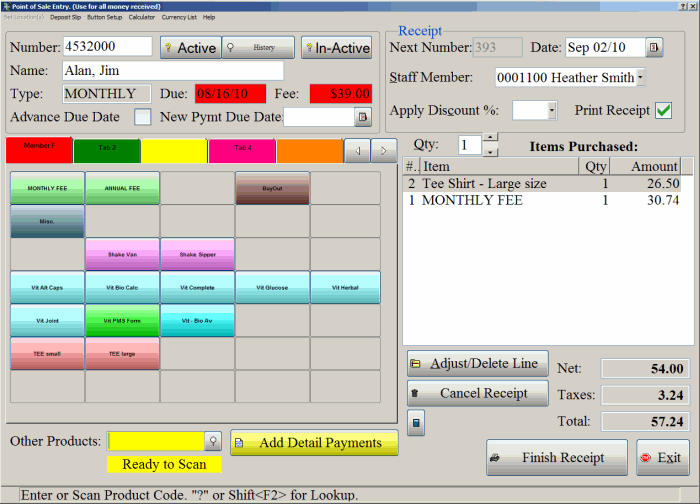 Full Point of Sale entry screen with 420 color coded buttons.
Touch Screen compliant.
Products may be assigned to a button or scanned using UPC code or custom product code.
Record partial payments with balance going to collection file for follow up.
Record and print Receipts for membership fees and/or product sales.
Complete receipt history detail for Daily, Weekly, Monthly, Quarterly or Annual reporting.
Print receipts to regular Ink Jet or Laser printers or to "Point of Sale" printers with cash drawer.
Option to collect payment through members bank account.
Integrated Bank Deposit Listing.
Multiple lines on each receipt.
Multiple Payment methods on one receipt.
Apply Discounts as needed.
Automatic Payment Date Advance for Membership Payments.
Print Single or Duplicate Receipts.
Print user defined Text/Liability Waiver on Receipt.
Email Receipt in PDF format.
Custom program changes accommodated through a "Fee for Service".
Many suggested enhancements are added to our development list and included free of charge in a later release.
Support is provided immediately during regular business hours. After hours calls are forwarded to Cell Phone support personal or are collected by a message center.
Email support is monitored and responded to after hours and on weekends.